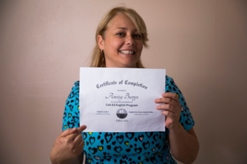 National Non-Profits, Social Enterprises and Foundations Collaborate to Discover How Technologies Can Best Increase Opportunity for Lower-Skilled Adults
This week World Education introduced two new resources to support the use of technology products to accelerate learning, employment, and career advancement for adults.
The Workforce EdTech Tools repository is a growing collection of impactful technology tools for use in adult learning and workforce development settings; and
A new report, Leveraging Technology to Increase Opportunity and Economic Security for Adults, shares findings and recommendations from the EdTech Center @ World Education's national field testing of seven technology tools for increasing access to learning and employment opportunity for lower-skilled adults. The findings represent a year of field testing with over 1,500 working learners and job seekers across the country.
The repository is designed to help adult learning and workforce development organizations, as well as employers, better leverage the most impactful technologies to increase outcomes related to: Learning & Training; Mentorship & Support; Assessment & Matching; Job Search & Placement; and Organizational Management.
It was built by World Education with the support of a group of non-profit organizations including the Employment Technology Fund, SkillRise – an initiative of International Society of Technology in Education (ISTE), Jobs for the Future (JFF), Digital Promise, Code for America, the Literacy, Language and Technology Research center at Portland State University, New America ShiftLabs, and the EdTech Center @ World Education.
"By harnessing digital technologies that are mobile, accessible and personal, we can help all adults, including entry level workers, grow their talent and increase economic opportunity," said Alison Ascher Webber, Director of Strategic Initiatives, the EdTech Center @ World Education. "Through both our field testing and the Workforce EdTech tools repository, we will increase the effective use of technology and break down barriers to education and employment on a far-reaching scale."
In the United States, an estimated 40 percent of adults lack in-demand skills and connections to advance in their careers or earn higher wages. While there are many edtech resources for K-12 or higher education, there are few that focus on adult learners and job seekers.
"We've heard over and over again that while providers of learning and skill development want to leverage technology to improve access and impact, they just don't know where to begin," said Danielle Goonan, Senior Manager II with Walmart Giving. "While there are many edtech products, it can be challenging to determine which ones work best with each worker. The Workforce EdTech Tools repository and the new learnings from World Education's year-long technology testing will help the field, including employers, better leverage the most impactful technologies to increase outcomes."
These technologies will increase opportunities for adult learners. For example, students can use their cell phones to learn English during work breaks, use a computer to find how their skills match up to new jobs or career paths, or participate in a virtual chat with a professional in an industry that is hiring. Other tools help improve communication, project workflow and documentation, and financial management and fundraising of organizations supporting adult learners.
"These technologies are poised to change the future of work—especially for the millions of adults living in the United States most in need of increased access to learning and opportunity," said Yigal Kerszenbaum, managing director, Employment Technology Fund. "We are grateful to World Education, Walmart and the Walmart Foundation for partnering with us to both test and share impactful uses of employment education technology."
The seven digital tools field tested include companies receiving impact investment from the Employment Technology Fund and proven to help adults enhance their skills and achieve greater workforce mobility, including CareAcademy, Cell-Ed, Nepris, Northstar, PAIRIN, Signal Vine, and SkillSmart.
The field testing uncovered five key strategies technologies should leverage to meet the needs of adults with lower skills, including mobility, accessible onboarding, personal connections, screening-in, and rich media. These and other learnings will help more tool developers improve their products to better serve lower-skilled adults, with feedback from workforce development agencies, community-based organizations, adult educators, and employers. The learnings are based on direct feedback from the end users— including frontline service workers, English language learners, diverse adults in employment training programs, jobseekers, and community college students.
The field testing of technologies and Workforce EdTech were made possible through grants from Walmart and the Walmart Foundation as part of the Technology Testing for Adult Learning & Employment (TTALE) initiative.
###
EdTech Center at World Education:The EdTech Center @ World Education was launched in October 2015 to leverage technology to increase the reach and impact of education and workforce initiatives and to enable everyone to thrive and be active, informed citizens in the new digital world. Housed atWorld Educationin Boston, the EdTech Center collaborates with diverse partners to accelerate learning, digital literacy, college and career readiness and economic mobility of adults with lower-skills in the United States as well as youth and adults internationally. With active projects in Asia, Africa and the United States, the EdTech Center is one of few organizations promoting learning exchange and partnership between edtech leaders in the United States and international experts. Together they are catalyzing an edtech movement that puts the needs of learners and instructors first.
Employment Technology Fund: TheEmployment Technology Fundis the first impact investment fund to invest in technology solutions that improve employment opportunity for lower-skilled, low-wage-earning adults in the United States. By shaping the future of work, ETF and its portfolio companies will close the employment opportunity gap facing 103 million adults who lack the skills, training and opportunities to access family-sustaining jobs and meaningful employment, including women, minorities, and immigrants. Since launching in August 2017, the Fund has made seven investments including:Cell-Ed,NorthStar,SkillSmart, Nepris,Signal Vine, CareAcademy, andPAIRIN. The Fund's investors include the Walmart Foundation, The Rockefeller Foundation, Joyce Foundation, The W.K. Kellogg Foundation and the ECMC Foundation.
About Philanthropy at Walmart: By using our strengths to help others, Walmart and the Walmart Foundation create opportunities for people to live better every day. Our philanthropy helps people live better by supporting upward job mobility for the retail workforce; addressing hunger and increasing access to healthier, more sustainably-grown food; and building strong communities where Walmart operates.